Sin is a 'suicidal act' and always has social consequences, Peru archbishop warns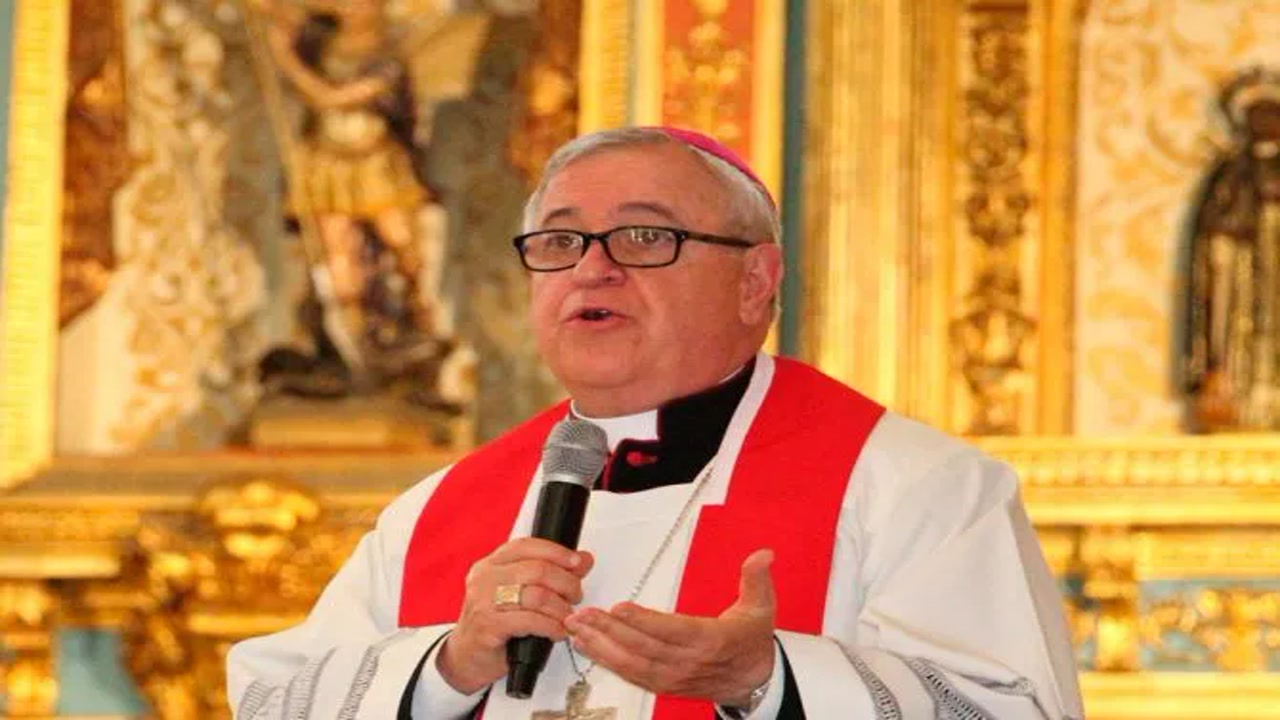 ACI Prensa Staff, Sep 18, 2023 / 18:30 pm
The archbishop of Piura in northern Peru, José Antonio Eguren, explained in a recent homily that sin is "a suicidal act" and warned that it always has consequences.
In his Sunday Mass sermon at the Piura cathedral, the Peruvian prelate said that "sin seeks to plunge us into spiritual death and unhappiness and is ultimately a suicidal act because through it, the human being rejects God-love, his beginning and foundation, his origin and his end."
Eguren stressed that "every sin, no matter how personal and intimate it may seem, always has social consequences and increases the forces of death and destruction in the world, what we call the 'mysterium iniquitatis' (mystery of iniquity), which cannot be understood without reference to the mystery of redemption, to the 'mysterium paschale' (paschal mystery) of Jesus Christ."
The archbishop emphasized that "without God, the human being fades away, he doesn't understand himself, he sinks into the existential lie, believing himself to be what he is not, unleashing within him a series of conflicts and contradictions, which he then projects negatively onto others, to his social life, and even to creation."
In this way, "alienated from God and from himself, sin also inevitably causes a rupture in man's relationships with his brothers and with the created world. Not for nothing, after the original sin, the next sin that the book of Genesis narrates is fratricide: Cain, who kills his brother Abel out of envy" (Gn 4:8).
Eguren noted that "one of the great evils of our time is to have lost the sense of sin" and that the Catechism of the Catholic Church defines sin as "an offense against reason, truth, and right conscience; it is failure in genuine love for God and neighbor caused by a perverse attachment to certain goods. It wounds the nature of man and injures human solidarity" (No. 1849).
St. Augustine defined it as "an utterance, a deed, or a desire contrary to the eternal law."
The prelate noted that "the evil and damage that sin produces is of such magnitude that, to save us from it, and to attain the wonderful gift of reconciliation with God, with ourselves, with our human brothers, and with creation, the Son of God had to become incarnate, die on the cross, and rise gloriously."
Forgiveness
After stressing that God is always willing to forgive because of his immense mercy, the archbishop of Piura pointed out the need to forgive others and not hold grudges, nor have desires for hatred or revenge.
In Sunday's Gospel, to the question that Peter asks Jesus about how many times he should forgive, the Lord tells him: "I say to you, not seven times but seventy times seven" (Mt 18:22).
Since for the Jews seven meant perfection or fullness, with his response Christ encourages us to forgive always and without limitations.
"May Holy Mary, Mother of Mercy, help us to be increasingly aware of the gratuity of the greatness of forgiveness received from God, so that we may be merciful like the Father, and like his Son, Our Lord Jesus Christ, mercy incarnate," he concluded.
This story was first published by ACI Prensa, CNA's Spanish-language news partner. It has been translated and adapted by CNA.
Article reprinted with permission.
RELATED NEWS
https://www.lifesitenews.com/news/archbishop-fernandez-says-synod-will-offer-no-conclusions-on-female-deacons-married-priests
https://romansky.tv/modules/iframe_provide.cgi?externallink=AE702EAE794610149CF776D6651EF68F
https://www.catholicnewsagency.com/news/255516/oklahoma-archbishop-decries-execution-of-anthony-sanchez-as-archaic
https://www.lifesitenews.com/analysis/archbishop-vigano-mel-gibson-sound-alarm-over-genocide-of-armenian-christians
https://romansky.tv/modules/iframe_provide.cgi?externallink=3187C3D17735101491D7DECC651EF68F
https://www.lifesitenews.com/news/sex-abuse-victims-demand-pope-francis-remove-archbishop-fernandez-at-protest-in-rome
https://romansky.tv/modules/iframe_provide.cgi?externallink=E7AA563A76F31014A2B6CECE651EF68F
https://romansky.tv/modules/iframe_provide.cgi?externallink=AAE3F1D376F1101481FA3ADB651EF68F
https://www.lifesitenews.com/blogs/how-archbishop-vigano-made-a-huge-impression-on-me-in-rome-one-year
https://www.lifesitenews.com/opinion/archbishop-aguer-the-synod-on-synodality-is-leading-souls-from-the-truth-of-christ-and-his-church
https://www.lifesitenews.com/news/pope-francis-retires-liechtenstein-archbishop-who-refused-to-participate-in-synod-on-synodality
https://romansky.tv/modules/iframe_provide.cgi?externallink=3342326272E61014BCEA9EE1651EF68F
https://romansky.tv/modules/iframe_provide.cgi?externallink=FD1CD26B721C101485053ED9651EF68F
https://romansky.tv/modules/iframe_provide.cgi?externallink=C2FE4BD172311014BC0C32E0651EF68F
https://romansky.tv/modules/iframe_provide.cgi?externallink=EB719DBF71731014976BCECD651EF68F
https://www.lifesitenews.com/news/archbishop-fernandez-says-several-of-his-texts-are-more-dangerous-than-book-on-erotic-kissing